9/03/2018 em Imprensa
Fonte: Latin Lawyer
09 de março de 2018
Matéria com a participação da Dra. Camilla Sisti, sócia Velloza Advogados Associados
Luis Bulcao Pinheiro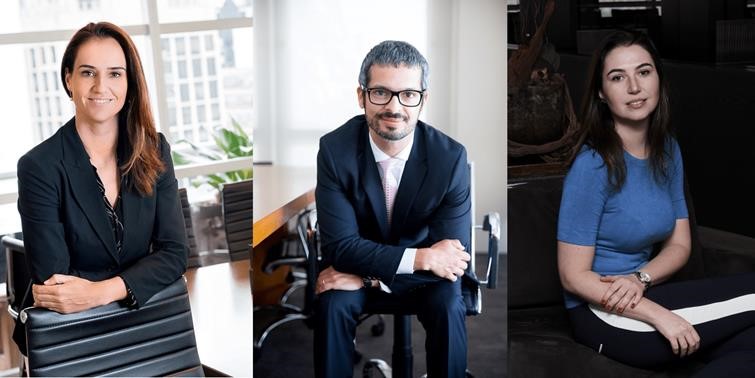 Renata Simon, Marco Sabino and Camilla Sisti
Three Brazilian firms have recently hired or promoted lawyers as renewed economic growth continues to drive senior appointments in the country.
After seven years working at television network Rede Globo as advertisement affairs manager, litigator and media lawyer Marco Sabino, 38, has returned to private practice, joining Mannrich e Vasconcelos Advogados as partner on 5 March. He will head the firm's litigation practice and create new media and compliance departments.
Mannrich e Vasconcelos, which now has eight partners spread across its São Paulo and Belo Horizonte offices, specialises in labour, tax, disputes and corporate law. Founding partner Nelson Mannrich says the firm expects a 15% increase in revenue this year. "This is especially due to Brazil's economic recovery," he adds.
Sabino says his experience dealing with commercial strategies, ethics and self-regulation in advertising at Brazil's top broadcaster will come in handy at Mannrich e Vasconcelos. "The legal market for media and internet is less regulated than other industries, so there are several controversial issues which demand legal attention," he says.
Other firms are doubling down on organic growth as Brazil's economy recovers. São Paulo-based outfit Candido Martins Advogados has increased its partner count to three after promoting corporate and compliance lawyer Renata Simon, 38, on 27 February. She will head the compliance department, but will also steer transactional matters.
Candido Martins focuses on M&A, capital markets and financial transactions. Its founding partners are Alamy Candido and Henrique Martins.
Velloza Advogados, which has offices in Brasília and Rio de Janeiro, has also added to its partnership. The firm promoted corporate lawyer Camilla Sisti, 34, in São Paulo on 15 February. Her appointment increases its overall partner count to 15.
Sisti joined Velloza in 2008 and focuses her practice on M&A and private equity transactions. A spokesperson at the firm says Brazil's growth prospects were behind the promotion. Velloza believes the country's improved economic fortunes will boost the number of  M&A transactions in 2018.
Many other firms have been gearing up for more robust economic results in 2018. Government figures, released on 1 March, confirmed Brazil's GDP increased by 1% in 2017. The news officially marked the end of two consecutive years of recession during which GDP decreased by 3.6% in 2016 and 2015 respectively.
Brazilian lawyers have consistently told Latin Lawyer they expect an uptick in deals during the first two quarters of 2018. However, some are more cautious about growth prospects in the second half of the year when preparations for the October general elections take centre stage.
Latin Lawyer has reported on the promotion of 39 lawyers at 11 Brazilian firms in 2018. In the same period in 2017, six firms had announced the promotion of 17 lawyers. Meanwhile, nine firms have announced the hire of 11 partners in the country. In 2017, six firms hired 14 partners in the same period.
Partner hires in Brazil 2018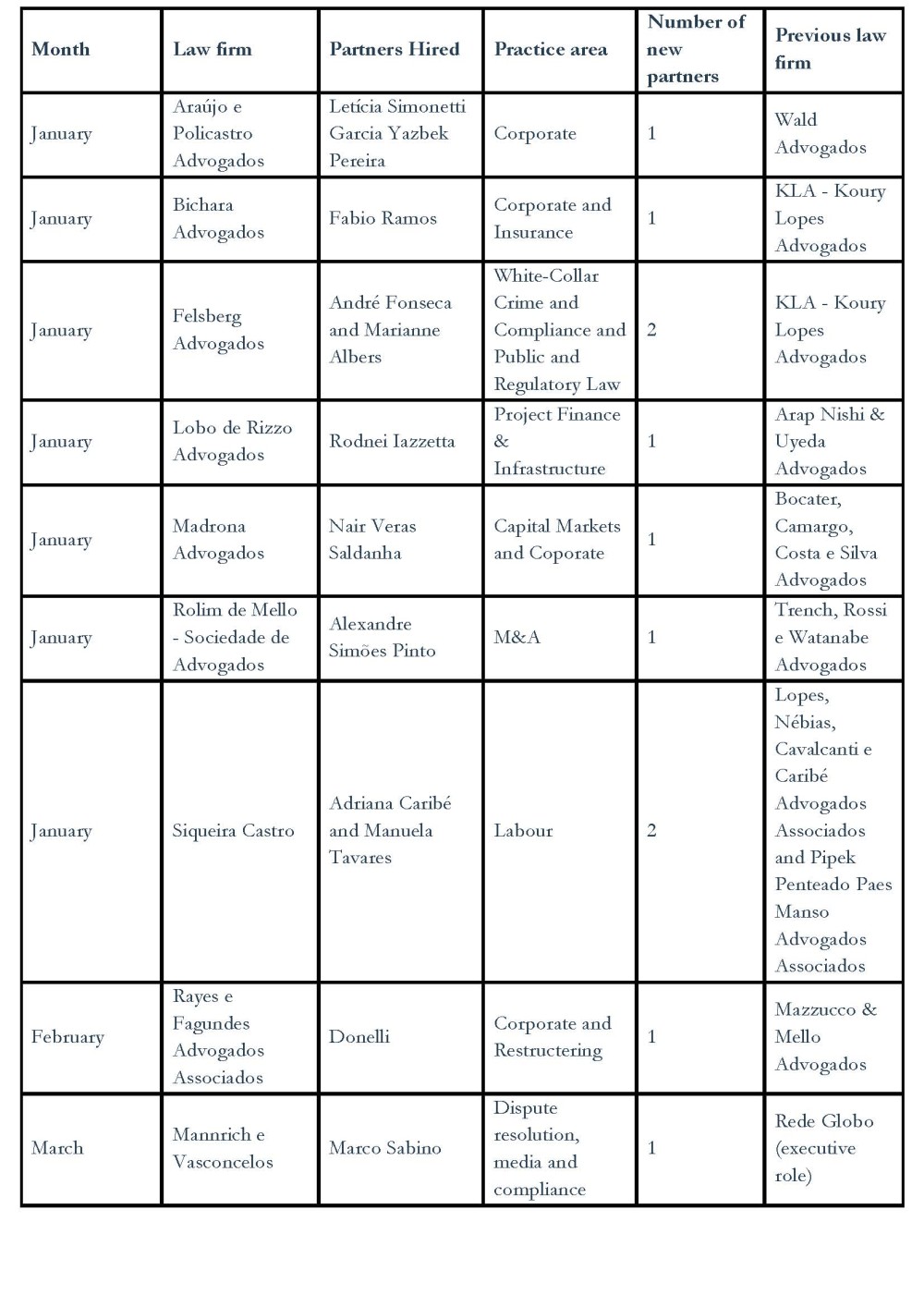 Partners promotions in Brazil 2018